Welcome to Bassetts Citroen Service Plans
Simply enter your registration number below to get started on your Citroen service plan quote or pop in to our Swansea, Carmarthen or Bridgend Bassetts Citroen for more information.
Routine servicing is an important part of keeping your Citroen vehicle working at its best, delivering a top driving experience ... and a Bassetts Citroen service plan available is your key to worry-free motoring.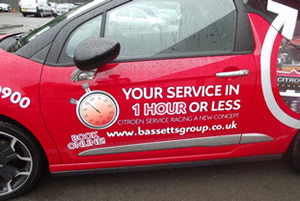 It lets you spread the cost of your regular services across monthly instalments, just like household bills. Even better, all service plans are inflation-proof and all of your requirements are handled by qualified Citroen technicians.
Why does service plan makes sense and what makes it a good option?
Servicing costs are spread over time
Service costs are fixed at today's prices, making them nflation proof and interest free
Your vehicle will be maintained and serviced by our trained fully qualified Citroen technicians
Citroen service stamp helps to maintain the re-sale value of your vehicle
The complete cost of your recommended servicing including parts, labour and advisory brake fluid change are covered in your plan
Private and commercial customers can benefit from our service plans, which are conveniently tailored to suit your specific needs.
Call now for more information:
Citroen Swansea - 01792 620950
Citroen Carmarthen - 01267 853768
Citroen Bridgend - 01656 353115
Register your interest in Citroen Service Plans